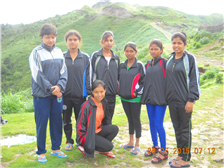 Swagata Sen, Gold Award holder from Sri Sarada Math, Rasik Bhita is sharing her Adventurous Journey experience with us.
My friend Kankana Hambir and I from Sri Sarada Math, Rasik Bhita were selected for this Gold trek from 22nd - 27th June 2015. We were really excited about this camp, mainly because of the venue. We also knew that it was going to be tough so we prepared for the hurdles we were going to face. We started our journey with rest of the team including four instructors and eight girls from the All Bengal Women's Association. Our train (Darjeeling Mail) departed at 10.05 p.m. from Sealdah Station.
The next day around 8:30 a.m. we reached New Jalpaiguri Station. After reaching Manebhanjang we had lunch and were told to take rest to acclimatize to the high altitude. From the next day, 24th of June, we started our trek to Tumbling, about 11 km from Manebhanjang. We were amazed with the scenic beauty that we observed on the way. So mesmerized were we by the beauty of nature that we almost forgot our the difficult physical conditions we were facing.
At first we thought that we would not be able to make it. The steep roads become our greatest challenge to overcome. It was exhausting but we made a slow progress -- quite a tremendous effort. We could hardly imagine that we could make it. Mother Nature also made us happy with her bright skies, drizzling mists, green vegetation and vivid coloured flowers. We also met some lovely people on the way to Tumbling and observed their hard lifestyle and deep love for nature. On the 26th of June we started to come down from Tumbling to Manebhanjang and on the 27th we reached our home safely.
The Adventurous Journey was wonderful; we learnt a lot of things, spent good time with friends, made new friends and came to learn about their struggles in life. There we also observed nature so closely and faced our challenges with a courage that we never imagined we possessed! I think it took us one (big) step closer towards becoming a complete person. The Journey was truly the one that we will cherish in our mind forever.