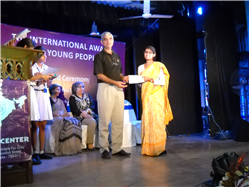 A life changing experience shared by Monalisa Paul, Gold Awardee from Sri Sarada Math Rasik Bhita

I was not particularly aware of society and the world around me other than my family. I used to stay at home most of the time. When I was in the 12th standard one of my school teachers told me about an organization named Sri Sarada Math Rasik Bhita. I took admission to learn spoken English and computers. This is where I came to know about another organization - the IAYP (International Award For Young People). I enrolled myself with IAYP and my life took a new turn. I still remember the date, the 5th of December 2012, when I took the first step to go somewhere without my family, to make myself a strong and self reliant individual. The adventure tours made me a totally different person. IAYP gave me self confidence and the strength to become a person who could stand up for herself in this big world.

In 2014 I graduated in Geography Honours. In this year I also got a job In Tata Consultancy Services Ltd., and the thanks goes to the IAYP programme for giving me the confidence to hold my own in the interview. The other quality I developed is decision making skills.

From that very first time when I enrolled myself in the IAYP programme, right till the present, I have never looked back. It helped me to build my career and a strong character. Now I find myself a new person, not the old, shy one. I have discovered my self as a person who is full of confidence, enthusiastic and daring, ready to take on any challenge. I think this should be the attitude a woman should carry. I am very grateful to Sri Sarada Math Rasik Bhita and IAYP for changing my life.