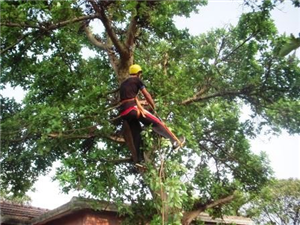 Gold and Silver participants of The Cathedral & John Connon School, Mumbai completed their Adventurous Journey at Bhimashankar and Khopoli. A report from the Award Leader follows.
The IAYP Gold and Silver Level Adventurous Journey camp was held from 8th to 11th October, 2015 at Khopoli and Bhimashankar. Forty-nine Gold and Silver level participants, accompanied by the Award Leader, left for Khopoli. On reaching Khopoli, the participants were given sessions on rope knots, how to handle various equipment and pitch tents. These sessions were lively, informative and helped refresh everyone's memory of these vitally important skills for safety and survival.
Early morning on the 9th of October, all the participants embarked on a trek to Bhimashankar. They were all transported to Khandas village by bus and then began the ascent from there. The trek was challenging and exciting; there were several spots that seemed impossible to climb but with the correct attitude and skill, all the participants were able to manoeuvre their way through the forest. Everyone was determined to complete the trek and reach the peak of the hill. After seven hours with a lot of encouragement from the team leaders, the group finally made it to the top. The trek was exhausting but it helped improve the participants' fitness and build their communication and coordination skills.
In the evening, the participants were divided into groups and took part in different team building games. In the first game, the participants had to form a circle and pass a hoola-hoop around the circle without breaking it. The games became more difficult as they progressed; in the last game, all the team members were blindfolded and the group leaders had to help them form a square. These games enabled the participants to think on their feet and prepared them for life-threatening situations.
On the morning of the 10th of October, the participants did some light exercise and then took a bus to the Bhimashankar temple. It was a beautiful historic monument that offered an insight into Hindu religion and culture. In the evening the participants undertook a few adventure activities. Both net climbing and jhummaring were good exercise; these activities also allowed the knowledge on equipment and rope knots to be put to good use.
The morning of the 11th was spent in some light exercise followed by lectures and a feedback session, after which everyone departed for Mumbai. All in all, the camp was challenging and tiring but it was a memorable and enjoyable experience. Click here for pictures