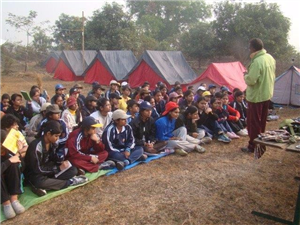 The National Award Authority organised an Adventurous Journey camp for the Bronze and Silver Level under Gender Diversity & Empowerment Project at Bisindha, West Bengal from 6th - 10 January 2016, with the support of experienced instructors from Institute of Climbers and Nature Lovers, Kolkata. Nidhi Raj Chatterjee, Bronze awardee -- one of the sixty-four participants -- describes her first ever exposure to adventure.
My name is Nidhi Raj Chatterjee and I'm a Bronze awardee of International Award for Young People. I recently had my first experience of Trekking with the skilled instructors. I'd like to share my experience and everything that this trek has taught me.
First, I would like to start with the foremost important thing about a trek, which is 'Adjustment'. Adjustment with the people around me, and adjustment with the environment around me. We lived with Nature, by Nature and on Nature. We had to adjust with small space to live and rest in, without any comfort. This way it helped us to identify our ability to adjust with the present circumstances.
Second, it helped us a lot to learn how to 'Socialize' with people. There were 64 of us, who came for this journey to experience adventure and learn survival on Hills and Mountains. When I started for the trek, I knew only three other participants who were my friends, but when I returned I had an endless list of friends on my card. Initially I was worried about what people around me would be like, but as soon as I reached and 'socialized', all my fears disappeared. It was because we all lived in the same environment, wore the same type of clothes, ate the same food, and shared the same shelters. We woke up together, ate together, learned together and enjoyed together. This trip has helped me enlarge my circle of friends and enhanced my ability to be friends with people irrespective of age and origins.
Now I would like to share the most remarkable part of this entire journey, 'The Lifetime Experiences' and 'Learnings'. We were introduced to the 'life saving equipments' of trekking and mountain/hills climbing. We were taught how to use those equipments to survive on the hills. We were introduced to the different kind of 'knots' that are used for various purposes. We experienced great adventures like crossing on and from 'Travellion Traverse', 'Joomering', 'Single Rope Bridge' and 'Burma Bridge'. And then we experienced a trek of around 16-17 kilometers in a day.
This entire camp has brought many changes in all of us. From waking up before sunrise and then going for workouts in the morning, then having meals on time and with discipline, socializing with people, living without any electronic gadget, and staying enthusiastic whole day. From this Adventurous Journey we have learned so many things which otherwise would not have been possible.
We are all extremely and whole heartedly thankful to our instructors for drawing out the best in us and making us aware of our hidden strength. Click for pictures...