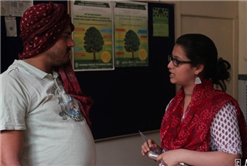 Praniti Ganjoo, Gold Award holder from Delhi Public School, Gurgaon is sharing her experience during her Bronze to Gold Award Journey
I became a part of the IAYP programme four years ago, and the Gold Award Ceremony held on the 16th of July took me down memory lane, to the past four years of my journey of getting the Bronze, Silver and Gold Awards. I remember the 14 year old girl, who had just entered into high school and was excited about the adventure camps that she would get to be a part of and enrolled for the Award. Little did I know that this would become such an important part of who I am today.
I was in the 9th grade when I received my Bronze Award. I took up dancing as a Physical Recreation, where I learnt dance forms like jazz and freestyle. For the Skills section, I took up baking, another passion of mine. However, undoubtedly, the most interesting and fun sections were the Service and the Adventurous Journey sections. I got involved with Shiksha Kendra, an initiative to teach the underprivileged children of our society subjects like English, maths and the social sciences. For the Adventurous Journey, I went to Mori, Uttarakhand, where I took part in white water river rafting, rappelling, trekking and cliff diving.
Getting the Bronze Award after months of involvement in various activities, the exhilaration, and the ability to learn, filled me with a newfound thirst to learn more and become more, and I knew one thing for sure, there was no going back!
For the Silver and Gold award, I pursued dancing and swimming under Skills and Physical Recreation respectively, with the same vigour and zest and learnt new things under the guidance of my proficient instructors. I also got a tremendous opportunity to work with Teach India -- an initiative by the Times of India and the British Council, which aimed at spreading awareness about the importance of the English language and facilitated its learning for people, in order to improve their quality of life by providing better employment opportunities. I was actively involved with this endeavour by Times of India, and got an award for Excellent Contribution and Best Volunteer.
The Duke of Edinburgh's International Award Programme made me recognize the significance of giving back to society. This inspired me to also volunteer for an organisation which dealt with children fighting with cancer and I collected funds at carnivals and also conducted bake sales. Finally, the Residential Project under the Gold Award, gave me an insight into the life of the villagers. I went to the village Ghamroj, near Sohna Road, Gurgaon, Haryana, where we saw factories where bricks were made, went to a cowshed and organic farms and also met the village head, who enlightened us about the improvement of education and sanitation facilities in the village.
The Award gave me an opportunity to engage and acquire a new set of skills. I got the liberty to design my own programme and set my own goals by challenging my boundaries. Thank you IAYP!