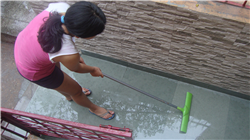 Gauri Jaswal, Bronze Award holder from Amity International School, Noida shares her experience with the Programme

My experience with IAYP began one sultry August morning in my school's amphitheatre. It was stuffy and I wasn't really paying heed to what the gentleman from the Award Foundation was talking about. I thought: I don't want to commit to a six-month-long competition! And then he said, "The Award is not a competition. It's a challenge for yourself and you are judged by your yardstick, not ours". Suffice to say, that caught my attention! I enrolled and after clarifying (multiple times!) with my Award Leader that you could really do any activity as part of IAYP, I started with the Award. I chose yoga as Physical Recreation, learning a language (Mandarin and Italian) for Skills and cleaning the area around my apartment building as Service. Although I'd like to say that I enjoyed all four areas equally, the truth is that the most enjoyable part for me, an introvert by nature, was the Adventure camp. I simply loved the week I spent with friends from school! Of course, the days were gruelling and we hardly got any rest, but I got to zorb for the first time, experience the horror of rappelling and nearly succumbed to heart failure while rock climbing! I absolutely loved every second! At the end of that week, I knew that I had made the right decision by participating in IAYP.

The other areas were definitely fun as well, hard as it may have been to get myself to do that one hour each week (and end up doing two!). I am glad that I kept going. Now that my six months are up, I find myself unfolding the yoga mat or logging on to Duolingo. But, I know that I still have Silver and Gold to go!
Click for pictures