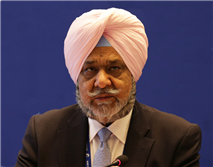 Randhir Singh, former Olympic-level trap and skeet shooter and now sports administrator, is currently the Honorary Member from India on the International Olympic Committee. He is a 1979 recipient of the Arjuna Award. He was educated in Yadavindra Public School, Patiala and earned a B.A. in History (Hon.) from St. Stephen's College, Delhi.
He comes from a family of sportsmen and sporting administrators. He made his competitive senior shooting debut as an 18-year-old when he was part of the winning trap shooting team at the Indian National Championships in 1964. His team defended the title the next year, and he won his first national individual title in 1967 in skeet. He went on to win multiple titles at the national level in both skeet and trap shooting. He represented India Internationally for 31 years from 1963 to 1994, which is the longest representation by any sportsman in India. He became the first Indian shooter to win continental gold at the 1978 Asian Games in Bangkok. On home soil four years later, he won team silver at the 1982 Asian Games in New Delhi.
He represented India in six Olympic Games from 1964 to 1984 and he also competed in four Asian Games from 1978 to 1994, winning a medal of each colour. He also represented India at the Edmonton Commonwealth Games (1978) and won a Bronze Medal.
He is the winner of the Olympic Order (Silver) Award 2014 from the International Olympic Committee, Merit Award (2006) from Association of National Olympic Committee (ANOC), Merit Award (2005) from Olympic Council of Asia and Maharaja Ranjit Singh Award (1979) from State Sports Award -- Government of Punjab. He was Founder Secretary General of the Afro-Asian Games Council (1998), and helped lead the organization of the only Afro-Asian Games in Hyderabad in 2003.
He was involved in bringing the 2010 Commonwealth Games to India, and had been the Vice Chairman of the Organizing Committee. He served the Association of National Olympic Committee (ANOC) (2012-2014) as Vice President. He was the Secretary General of the Indian Olympic Association (1987-2014), Secretary General of Olympic Council of Asia since 1991, and member of the International Olympic Committee from 2001 - 2014, and member of the Association of National Olympic Committees Executive Board (2202-2012 and 2014). Recently he was re-elected for the sixth time as the Secretary General of the OCA. He has also served as member of the World Anti-Doping Agency Foundation Board (2003--2005) and on the following commissions: Olympic Games Study Commission (2002--2003); IOC Sport for All Commission (2004), IOC Women and Sport Commission (2006); IOC Coordination Commission 2010 - Ist Youth Summer Olympic Games, Singapore 2008; Foundation Board Olympic Truce Foundation (2006) and Wada Foundation Board (2003-2005). He was a member of the Governing Body, Sports Authority of India, Govt. of India (1987-2010).
In 2000 he was awarded a D.Litt. in sports science from Lakshmi Bai National Institute of Physical Education, Gwalior, India.