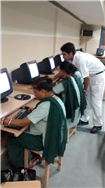 Teach-India, a

n initiative of The Times Group aims at improving English spoken skills of the underprivileged to improve their employability. Shreya Manoj Naik, Delhi Public School, Gurgaon sharing his experience on this fruitful journey.
My Teach India experience as a part of my Award Journey has been one that was deeply fulfilling and highly satisfying. I have always been confident about my command over spoken English, but I never realized how hard it would be to teach the language! It started off with a 6 day training workshop where I got to interact with other participating students. Together, we learnt how to teach English to someone who was not familiar with the language. Once school commenced, we started with teaching English to the support staff of our school. Initially, it was hard to relate and teach them as they were elder to us, but slowly they started to open up, and soon they became motherly figures who would look after us and at the same time learn from us! It gave me immense satisfaction to hear them speak English. Gradually, they were able to speak short sentences. They even tried their hand at learning computers and were able to use paint and MS Word.
It has been an amazing experience for me and at the end of this fruitful journey I could see them yearning for more knowledge.
I wholeheartedly appreciate this initiative by The Times Group and would like to thank my school and the Award Programme for providing me with the opportunity to be a part of this noble cause! Click for few more pics